College Visit Presentations Schedule
Posted on: September 29, 2023
Summary: Attend a College Visit at GHS.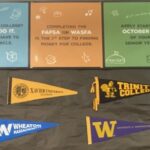 Fall College Visits
All Garfield students are welcome to register to attend college admissions presentations. After the in-person or virtual presentation, students will be able to ask representatives of the schools about application process, costs and financial aid, academic specialties, etc.
Log into Naviance to check the latest schedule. Naviance also offers extensive links to information about the schools.
Naviance is accessible in the SPS online Student Portal
Questions? Drop by the College & Career Center
The events are also listed on Naviance, an online planning tool accessible to students and families.
Unless otherwise noted, all presentations are during Advisory (10:45 on Mon. and Fri.; 10:15 on Wed.) in the Auditorium.